Here's what we know
On March 11, 2020, The World Health Organization has categorized COVID-19 as a pandemic — the global outbreak of a new infectious disease.
On March 13, 2020 U.S. President Donald Trump declared a national emergency, opening the door for more federal aid for states and local government.
It produces upper respiratory flu-like symptoms — fever, cough, shortness of breath.
It spreads easily from person-to-person via coughing or sneezing.
Older adults and people with chronic lung or heart conditions or diabetes seem to be at higher risk for serious complications.
There is currently no vaccine, and one isn't expected for 12-18 months.
Universities moving to online-only classes. Corporations enacting mass work-from-home policies. Sports leagues canceling or postponing seasons. All the talk of "social distancing." Will it make a difference?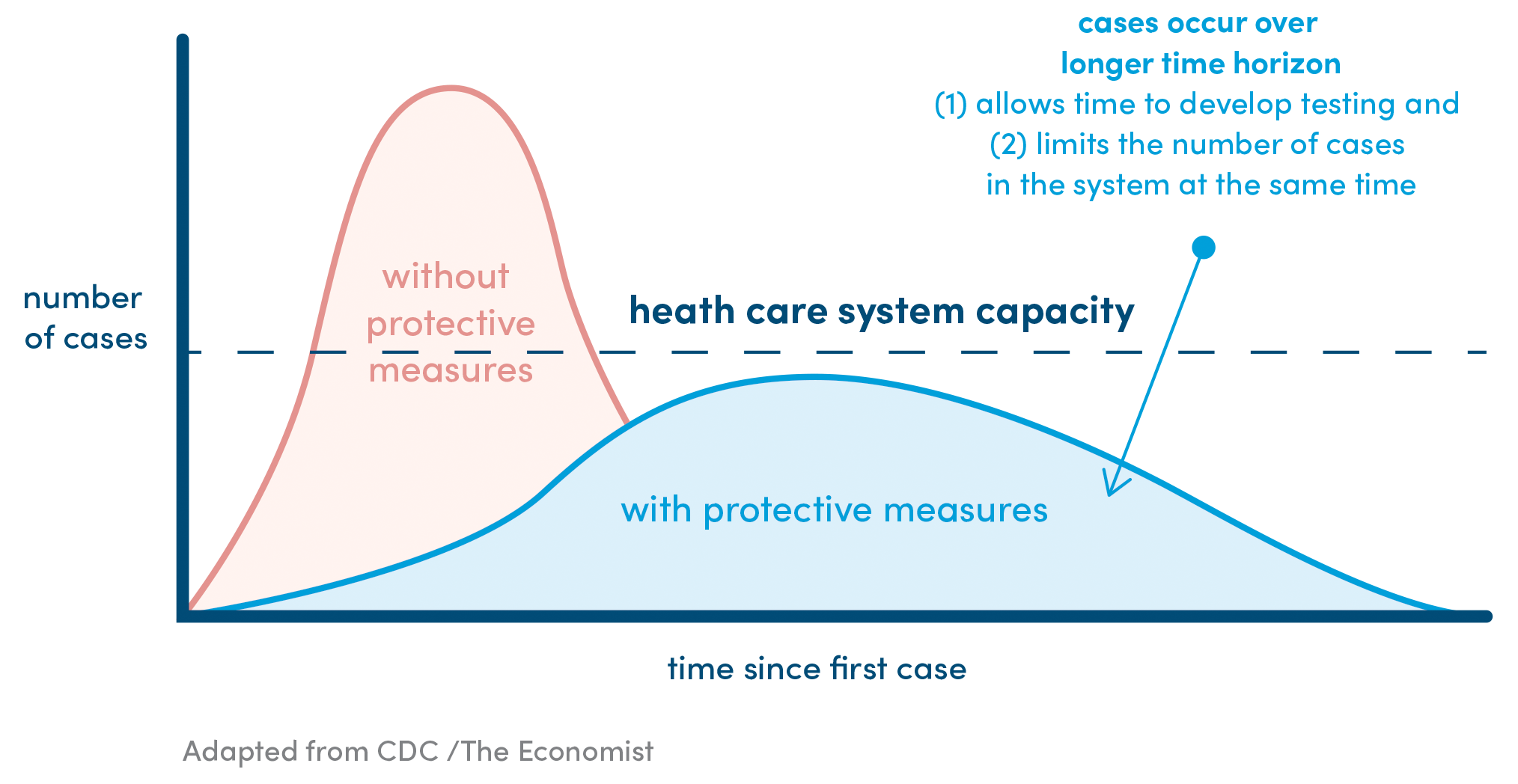 Yes, it will. Every step we take to slow the spread of Coronavirus:
Ensures that health systems do not get overwhelmed with patients, outpacing their capacity.
Gives labs more time to ramp up testing capabilities and capacity.
Offers the world time to discover, test, and manufacture a vaccine which could take up to 18 months.
Gives physicians more time to figure out the best medication and treatment plans — and to manufacture and distribute enough of them — for those who are infected.
Enables researchers to reduce the unknowns and share facts on how it spreads, its death rates, and whether it can reoccur.
Allows the supply chain a chance to catch up on demand for personal protective equipment and respirators.
Enables those suffering from non-Coronavirus-related health conditions to continue to receive care without disruption.
Protects those most at risk in our community — the elderly and chronically-ill.
How you can help limit the spread of Coronavirus
If you're sick, stay home.
Avoid large crowds. If you have to be out, maintain a distance of at least six feet from anyone who is sneezing, wheezing or coughing.
Avoid any unnecessary travel.
Wash hands frequently with soap and water for at least 20 seconds or use an alcohol-based hand sanitizer (at least 60% alcohol) if soap and water are not available.
Make a plan for your family, and check in on elderly neighbors or those with underlying conditions.
Make sure you have enough groceries and household supplies to last at least two weeks.
If you take prescription medications, make sure you have at least a 30-day supply. Many retail pharmacies offer home delivery; check to see if yours does.
Commonly used surfaces — clean them, often.
Eat a balanced diet and get enough sleep.
Official sites with information you may find important